How to get the best upgrades at hotels and car rental centers like Hertz and Avis ?. I'm going to show you the roadmap to getting like just skyrocketed to the highest status possible by using your rewards points and some of your cash to just scale up and just minimize the time you have to get all these amazing perks.
In my another article about Best Credit Cards, Chase credit cards (SPG) and American Express credit cards (AMEX Platinum) are the best in my point of view, and after applied to those best credit card companies, you are automatically upgraded to a certain status with the hotel companies like Marriott, H.I.G, and Hilton Honors, etc. So we'll take an example, SPG and you could do AMEX Platinum. When you have these two credit cards, And the reason why you need to get these two credit cards is because you can have automatic gold status with the Marriott. That's really important because when you have this certain status, you have certain privileges, upgrade possibilities, and you want to get more value for your money spent.
Remember, you earn two times the points when you transfer these points to hotel and travel and and flights. So do the math. It's 120 points. You could use that to do a challenge. And if you look up at the picture below, form statusmatcher.com website. It's basically an open forum which demonstrates and shows other members of credit cards and in hotel and hotel members such as the gold status, Marriott, that are challenging the airlines or their rent rental car companies or the hotels to obtain a higher status. Status right now currently six nights stay for people that have this status. You can be upgraded to platinum with the Marriott before it was nine nights. They have a high percentage rate of success with the match.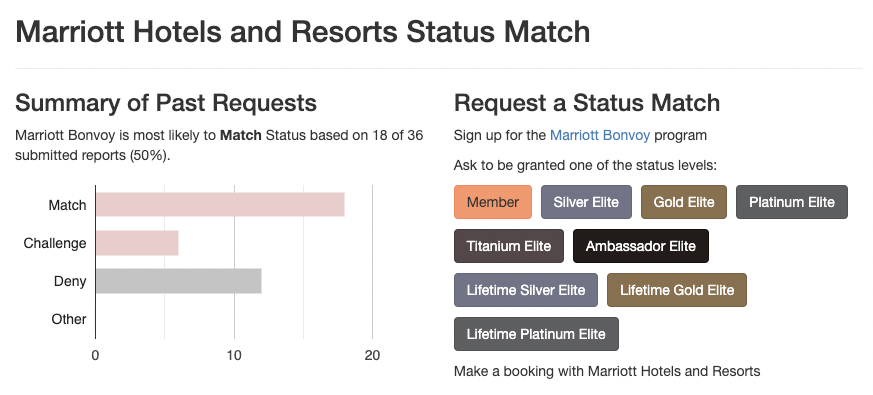 From getting the challenge to platinum Marriott, you can quickly go to United Silver or Hilton Diamond or IHG Spike. This is from one hotel company to another. So you see how we bounce from one company to the next because you have this status. They know you are a paying customer with another hotel chain. It makes sense for you too, have that same status as you go travel with other airlines and other hotel companies. All you have to do is show proof that your elite status member, which is gold status, Marriott or another loyalty program and have a stay within the last 12 months to get upgraded, then stay at a reduced number of nights within 90 days to keep your new status until February 2022. That's a pretty long time.
These are the hotel companies in that group that apply. So you can do the research to figure out which hotel is, in the area of your travel and then you could reap the benefits of the rewards. When you travel by airplane, you most likely probably are not going to take your automobile. So which would mean you have to rent a car. So what's the point of renting a Toyota when you could be upgraded to a Mercedes or even a Range Rover? I'm going to show you how by using this road map.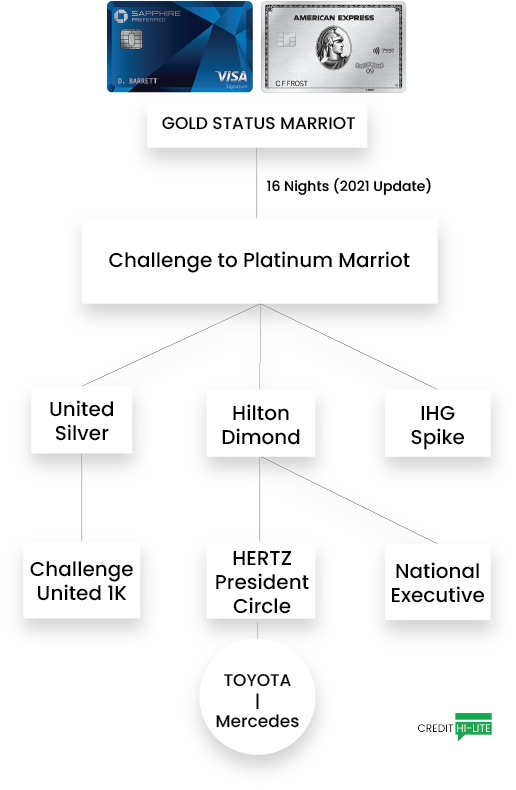 All right. So we are at the challenge platinum to Marriott. And we're able to get Hilton Diamond and now automatically we get Hertz Presidential Circle. OK, now, when we get the Hertz Presidential Circle, you can basically book a Toyota or a Corolla or something around that category of value and then ask them to be upgraded to Mercedes or any type of car. That's just better. That's the whole point. It may not be a Mercedes that will be around that area. Could be better than that. But the point is you're going to get upgraded to a better viable car that's going to look nice and give you a better experience when you are on vacation. So this is a basic road map. You see how quickly we just jumped up to superstar status, getting the best upgrades at hotels. There's different challenges. So they all pop up. You're going to have to call the hotel company and negotiate with them and see which challenge they will approve for. And that's how you do it.
That how to get the best upgrades. I'll see you guys in the next article. Thank you for reading.